Just a few of our many guests.
(In random order)
---
---
Linda Godfrey, Research, Author, Reporter
I'm an author, investigator and artist with a penchant for Lhasa Apsos and werewolves, living in the Kettle Moraine area of SE Wisconsin. My books include Weird Wisconsin and Weird Michigan in the B&N Weird US series, sequels Strange Wisconsin and Strange Michigan (Trails Books), Trails titles The Poison Widow, The Beast of Bray Road, and Hunting the American Werewolf, and three volumes in a new Chelsea House YA series, Werewolves, Lake and Sea Monsters, and Mythical Creatures. Most recent are Monsters of Wisconsin, preceded by Haunted Wisconsin: Ghosts and Strange Phenomena of the Badger State, both from Stackpole Books, and The Michigan Dogman, Werewolves and Other Unknown Canines Across the USA
http://lindagodfrey.com/
---
Jeff Belanger, Author,Public Speaker & Paranormal Investigator
Jeff Belanger is one of the most visible paranormal researchers today. He's a prolific author who writes for both adults and children, he's a talk show host, lecturer, and he's the founder of the new legend tripping movement (
www.legendtripping.com
).
Since 1997, the former journalist has interviewed thousands of eyewitnesses to paranormal occurrences. He's worked in marketing and public relations for both private and public companies, and he's the ultimate insider and knows how to connect with people from all walks of life when it comes to the unexplained.
He is the author of over a dozen books (published in six languages) including the best sellers: The World's Most Haunted Places, Weird Massachusetts, and Who's Haunting the White House (for children). He's the founder of Ghostvillage.com, the Web's most popular paranormal destination according to Google.com, and a noted speaker and media personality providing dozens of lectures per year at colleges, universities, conferences, and libraries. He's also the host of the cable/Web talk show, 30 Odd Minutes which is available in over 3 million homes in the United States. Belanger has written for newspapers like The Boston Globe and is the series writer and researcher for Ghost Adventures on the Travel Channel.
Belanger has been a guest on hundreds of radio and television programs and networks including: The History Channel, The Travel Channel, PBS, NECN, Living TV (UK), The Maury Show, The CBS News Early Show, FOX, NBC, ABC, and CBS affiliates, National Public Radio, The BBC, Australian Radio Network, and Coast to Coast AM.
He currently haunts Massachusetts. is one of the most visible paranormal researchers today. He's a prolific author who writes for both adults and children, he's a talk show host, lecturer, and he's the founder of the new legend tripping movement (
www.legendtripping.com
).
Since 1997, the former journalist has interviewed thousands of eyewitnesses to paranormal occurrences. He's worked in marketing and public relations for both private and public companies, and he's the ultimate insider and knows how to connect with people from all walks of life when it comes to the unexplained.
He is the author of over a dozen books (published in six languages) including the best sellers: The World's Most Haunted Places, Weird Massachusetts, and Who's Haunting the White House (for children). He's the founder of Ghostvillage.com, the Web's most popular paranormal destination according to Google.com, and a noted speaker and media personality providing dozens of lectures per year at colleges, universities, conferences, and libraries. He's also the host of the cable/Web talk show, 30 Odd Minutes which is available in over 3 million homes in the United States. Belanger has written for newspapers like The Boston Globe and is the series writer and researcher for Ghost Adventures on the Travel Channel.
Belanger has been a guest on hundreds of radio and television programs and networks including: The History Channel, The Travel Channel, PBS, NECN, Living TV (UK), The Maury Show, The CBS News Early Show, FOX, NBC, ABC, and CBS affiliates, National Public Radio, The BBC, Australian Radio Network, and Coast to Coast AM.
He currently haunts Massachusetts.
www.espresearch.com
---
Russell Targ, Physicist and author
Russell Targ is a physicist and author, and was a pioneer in the development of the laser and laser applications. He holds his B.S. in Physics from Queens College, and did graduate work in physics at Columbia University. Targ has received two National Aeronautics and Space Administration awards for inventions and contributions in lasers and laser communications, and has published over one hundred scientific papers on lasers, plasma physics and ESP research.
In the 1970s and 1980s, Targ co-founded and worked for the CIA-sponsored Stanford Research Institute's investigation into psychic abilities. His work in this new area, called remote viewing, was published in Nature, The Proceedings of the Institute of Electrical and Electronics Engineers and in Proceedings of the American Association for the Advancement of Science. In 1983 and 1984, he accepted invitations to present remote viewing demonstrations and address the USSR Academy of Sciences on this research.
In 1997, Targ retired from Lockheed Martin Missiles & Space Co. as a senior staff scientist, where he developed airborne laser systems for the detection of windshear. Targ now teaches remote viewing workshops worldwide and continues to write. He is co-author of eight books dealing with the scientific investigation of psychic abilities, including Limitless Mind: A Guide to Remote Viewing, Transformation of Consciousness and his autobiography Do You See What I See: Memoirs of a Blind Biker.
Russell Targ is also an editor, publisher, songwriter, producer and teacher. He lives in Palo Alto, Calif. with his wife Patricia.
www.espresearch.com
---
Dr Judy Wood,
Dr. Judy Wood earned a Ph.D. Degree from Virginia Tech and is a former professor of mechanical engineering. She has research expertise in experimental stress analysis, structural mechanics, deformation analysis, materials characterization and materials engineering science. Her research has involved testing materials, including complex-material systems, in the area of photomechanics, or the use of optical and image-analysis methods to determine physical properties of materials and measure how materials respond to forces placed on them. Her area of expertise involves interferometry in forensic science. She taught graduate and undergraduate engineering classes and has authored or co-authored over 60 peer-reviewed papers and journal publications in her areas of expertise.
In the time since 9/11/01, she has applied her expertise in materials science, image analysis and interferometry, to a forensic study of over 40,000 images, hundreds of video clips, a large volume of witness testimony, analyses of dust samples, seismic data, and the analysis of other environmental evidence pertaining to the destruction of the World Trade Center complex. Dr. Wood has conducted a comprehensive forensic investigation of what physically happened to the World Trade Center site on 9/11. And, based on her analysis of the evidence she gathered, in 2007, she filed a federal Qui Tam case for science fraud against the contractors who contributed to the official National Institute of Standards and Technology (NIST) report about the destruction of the World Trade Center towers. This case was filed in the US Supreme Court in Dec 2009. To this day, Dr. Wood's investigation and body of evidence as compiled in her book is the only comprehensive forensic investigation in the public domain. WHERE DID THE TOWERS GO? is not a book of poetry, yet it has some beautiful prose. It is not a novel yet it tells a complete story. It is not a photography book, yet the pictures will grab you. It is not just a text book, yet its data is empirical and it teaches critical thinking. It is not the Bible yet it will be one of the most important books you will ever read.
http://www.drjudywood.com/
http://wheredidthetowersgo.com/
---
Richard Dolan: Historian and Researcher
Richard Dolan is considered by many students of the UFO phenomenon to be the pre-eminent historian of the subject.
He is the author of two volumes of history,
UFOs and the National Security State
, as well as an analysis of the future,
A.D. After Disclosure: The People's Guide to Life After Contact.
Richard's writing is widely seen as ufology's gold standard. His seminal history, UFOs and the National Security State, has inspired such statements as "the best history ever written about UFOs" by best-selling author Whitley Strieber, and "masterful and important" by Dr. Edgar Mitchell of Apollo 14.
A.D. After Disclosure, which Richard co-authored with Bryce Zabel (creator of the television series Dark Skies), has been widely hailed as among the most original works in all of UFO literature, a fearless and analytical "what if" scenario that discusses the deep impact that would be brought about by the end of UFO secrecy.
Among Richard's main themes are the destruction of our political liberties as a result of the UFO cover-up, the possible nature of the non-humans themselves, and what their presence here means for our civilization. This has led him to take a fresh approach to the topic of "Exopolitics" and to develop unique insights into the practical challenges and opportunities for a true disclosure of the UFO phenomenon.
Richard has also written numerous articles, spoken at conferences around the world, is a frequent guest on radio shows such as Coast-to-Coast AM, and has done a great deal of television work. In 2006 he hosted a six-episode series called SciFi Investigate. More recently, he appeared with NBC's Lester Holt for a special two-hour documentary, "Inside Secret Government Warehouses: Shocking Revelations."
Richard was born in Brooklyn, New York, studied at Alfred University and Oxford University, was a finalist for a Rhodes scholarship, and completed his graduate work in history at the University of Rochester. Prior to his interest in UFOs, he studied U.S. Cold War strategy, Soviet history and culture, and international diplomacy.
Richard lives in Rochester, New York, with Karyn Dolan and their two children.
Websites:
http://keyholepublishing.com
/
http://afterdisclosure.com
---
Frank C. Feschino, Jr: Author/Illustrator
Frank C. Feschino, Jr. grew up in Connecticut. He is a graduate of the prestigious Paier College of Art in Hamden, Connecticut where he studied illustration, commercial art, and photography. For four-years, Frank was trained by several world-famous artists including Kenneth Davies, Rudolph Zallinger and John Massimino.
Becoming quite an exceptional painter, illustrator, and photographer, Frank would soon earn his Fine Arts diploma in 1981.
Feschino then moved to Florida where he studied film and video production at Phillips Jr. College in Daytona Beach, Florida. He was also trained by Hollywood camera operator Rich Davis, and graduated with an Associates Degree in 1994.
As a result of his studies, Frank readily honed additional communication abilities, further enhancing his already remarkable literary and interviewing skills.
In the early 1990s, he became interested in UFOs when he visited a relative's farm in Braxton County, West Virginia. Crop circles had appeared there overnight and UFOs were frequently sighted over the area. Feschino carefully documented these anomalies and then shared his research and data with crop circle expert, Colin Andrews.
During that era, Frank C. Feschino, Jr. discovered the infamous "Flatwoods Monster" incident of 1952. Conducting an extensive investigation into the case for several years, he has become a genuine authority of note on the event.
Feschino has also researched into the history of the military's involvement with UFOs during the 1950s, focusing his investigation on the flying saucer flap that occurred during the summer of 1952, which included the Air Force's flying saucer "shoot them down" orders.
The author subsequently wrote his ground-breaking book titled, Shoot Them Down - The Flying Saucer Air Wars of 1952, with both the forward and epilog having been written by nuclear physicist, UFO expert, and fellow author Stanton T. Friedman. Moreover, recognition and credit for the book's jacket synopsis goes to Veteran master aviator and writer Alfred Lehmberg, United States Army officer retired.
Frank has appeared on various television talk shows in West Virginia, as well as numerous TV news broadcasts, radio talk shows, and in countless newspaper articles/reports.
Feschino's UFO research has also been featured on a number of nationwide and worldwide radio talk shows. His investigative research has likewise been featured in newspapers around the world, as well as in several paranormal magazines in the United States, including the first-ever "Flatwoods Monster" cover story in UFO Magazine, November 2007.
Author/Illustrator Frank C. Feschino, Jr. currently resides in central Florida, where he continues his close to 20 years of investigation into UFO phenomena, often working with Stanton T. Friedman.
For more information please visit:
www.flatwoodsmonster.com
---
Stanton T. Friedman: Nuclear Physicist-Lecturer
"Inducted in to the UFO Hall of Fame of Roswell, NM, in July 2010."
Nuclear Physicist-Lecturer Stanton T. Friedman received his BSc. and MSc. Degrees in physics from the University of Chicago in 1955 and 1956. He was employed for 14 years as a nuclear physicist by such companies as GE, GM, Westinghouse, TRW Systems, Aerojet General Nucleonics, and McDonnell Douglas working in such highly advanced, classified, eventually cancelled programs as nuclear aircraft, fission and fusion rockets, and various compact nuclear powerplants for space and terrestrial applications.
He became interested in UFOs in 1958, and since 1967 has lectured about them at more than 600 colleges and 100 professional groups in 50 U.S. states, 9 Canadian provinces and 16 other countries in addition to various nuclear consulting efforts. He has published more than 90 UFO papers and has appeared on hundreds of radio and TV programs including on Larry King in 2007 and twice in 2008, and many documentaries. He is the original civilian investigator of the Roswell Incident and co-authored Crash at Corona: The Definitive Study of the Roswell Incident. TOP SECRET/MAJIC, his controversial book about the Majestic 12 group, established in 1947 to deal with alien technology, was published in 1996 and went through 6 printings. An expanded new edition was published in 2005. Stan was presented with a Lifetime UFO Achievement Award in Leeds, England, in 2002, by UFO Magazine of the UK. He is co-author with Kathleen Marden (Betty Hill's niece) of a book in 2007: Captured! The Betty and Barney Hill UFO Experience. The City of Fredericton, New Brunswick, declared August 27, 2007, Stanton Friedman Day. His book Flying Saucers and Science was published in June 2008 and is in its 3rd printing. His newest book, also co-authored with Kathleen Marden, is Science Was Wrong released in June 2010.
Website:
www.stantonfriedman.com
---
Donald R. Schmitt: Former co-director of the J. Allen Hynek Center for UFO Studies
Donald R. Schmitt is the former co-director of the J. Allen Hynek Center for UFO Studies, where he served as Director of Special Investigations for ten years. Prior to that, he was a special investigator for the late Dr. J. Allen Hynek and the art director for the International UFO Reporter.
Schmitt graduated from MATC with a degree in Commercial Art and graduated cum laude from Concordia University with a degree in Liberal Arts. He is presently taking graduate courses in Criminal Justice. Schmitt is the author of dozens of articles about UFOs, as well as the co-author of two best-selling books, UFO CRASH AT ROSWELL, Avon 1991, best-selling Witness to Roswell, New Page, NJ, 2007, and The Truth Abouit the UFO Crash at Roswell, published by M. Evans, 1994. He is also the author of ROSWELL, THE CHRONOLOGICAL PICTORIAL, from Moonset Entertainment Group.
Don has led and organized the three only archaeological dig projects at the actual Roswell crash/debris field. They were conducted in 1989, 2002, and 2006. The second effort became the central theme of their highest rated show up till that time in the 10-year history of the SCI FI Channel - The Roswell Crash: Startling New Evidence. Which also resulted in the book The Roswell Dig Diaries of which he was a contributing author.
www.roswellinvestigator.com
Contact Information:
TCarey1947@aol.com
or
donald.schmitt@att.net
---
Stan Courtney, Bigfoot/Sasquatch researcher
Stan Courtney has had an interest in Bigfoot/Sasquatch since 1959. His first possible encounter was near Springfield, Oregon in 1967. Stan has been giving talks on the topic of "Bigfoot In Illinois" to various groups throughout the state of Illinois. Stan became a member of the BFRO in 2004 and has interviewed over 250 bigfoot witnesses and posted over 160 reports on the BFRO website.
Stan has been very actively engaged in audio-recording for the last 7 years. Since that time Stan has been doing 24/7 audio-recording and has recorded over 80 sounds that would fall into the category of unknown animal or possible sasquatch.
Stan has three goals - to be a witness advocate, record nature sounds and to gather information on Illinois bigfoot sightings.
In the last 3 years Stan has traveled to the 48 contiguous states, recording and researching sighting locations. Stan has been a guest on numerous radio shows, including "Thresholds into other realms".
StanCourtney.com
http://www.stancourtney.com/
---
Dale Kaczmarek, Paranormal investigator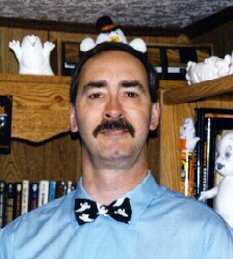 Dale Kaczmarek is President of the Ghost Research Society and director of Excursions Into The Unknown, Inc., the only year-round ghost tour of haunted Chicagoland locations.
Kaczmarek has been actively investigating ghosts, hauntings and poltergeist phenomena since 1975 and is active in a number of organizations including: American Association for Electronic Voice Phenomena, Society for the Investigation of the Unexplained, International Fortean Organization and the prestigious Ghost Club of England.
His website Ghost Research Society is one of the most active of its kind anywhere in the world.
Kaczmarek has appeared in numerous books, publications, newspapers and periodicals. He has been a guest on "Oprah", "Encounters", "Sightings", "The Other Side", "Rolanda", "Mysteries Magic and Miracles", "Exploring the Unknown", and was called on by the "Discovery Channel" to help produce and appear in two segments; "Real Ghosthunters" and "Phantom Photos".
Kaczmarek teaches an online college course at IMU, International Metaphysical University called Ghost Hunting Techniques.
www.intermetu.com
Dale Kaczmarek has authored five books including: Windy City Ghosts, Windy City Ghosts II, A Field Guide to Spirit Photography, Illuminating the Darkness: The Mystery of Spooklights, Field Guide to Ghost Hunting Techniques
Ghost Research Society
PO Box 205
Oak Lawn, IL. 60454-0205
708-425-5163, 708-425-3969 (fax)
http://www.ghostresearch.org/
---
Ken Moustache-Berg, Psychic detective & ghost hunter, Tarot, palmistry and astrology
Ken Melvoin-Berg is a co-owner of the Weird Chicago Tours and a Chicago-area psychic detective, author, lecturer and ghost hunter who is frequently consulted by the media on numerous local and international TV shows (Discovery channel, A&E, History channel, Biography channel, CBS, NBC, National Geographic, Syfy, Travel channels to name a few), radio, newspapers and podcasts for advice on all things paranormal.
His psychic ability is clairsentience, or the ability to detect energies or ghosts around which you cannot see with our 5 senses of sight, sound, smell, touch or taste. He has been used as a Psychic Detective by law enforcement agencies around the globe with murder suspect identification cases in which he has assisted with 29 convictions, including 2 serial killers.
Ken is a medium that regularly performs seances including his famous Houdini seance he attempts every October 31st. Ken is the official psychic of the American Ghost Society and the Great Lakes Regional Director and the Illinois Director of State Operations for Everyday Paranormal through the Discovery channel show Ghost Lab. Although Ken's background had taken him across the globe as a World traveler, medic in the Air Force and a Biologist, his true love is ghost investigations and telling the stories about them on his tours.
Ken was born on October 30, 1968 in Grand Rapids, Michigan. When he was a little boy he first started to display Psychic ability and was trained by his maternal grandfather, Don Melvoin, who also had the gift. Unlike most families, psychic ability runs in the Melvoin men. The great Astrologer/Psychic Irene Hughes, who predicted President Kennedy's assassination, was Ken's Psychic Mentor in his later years and taught him her system of Astrological meteorology. Ken is a lecturer and internationally recognized media expert on the supernatural, paranormal and occult studies. As a professional Psychic, Ken has a private practice in Chicago which he guides both celebrity clients and folks from all walks of life, either helping them in person or over the phone using tarot, palmistry and astrology.
Ken is single and currently lives in Chicago with a black cat born on Halloween named Lilith and a dog rescued on Xmas day named Lolita.
Along with the esteemed author Troy Taylor, Ken owns the Weird Chicago tour company.
chicago.ghost@gmail.com
/ 773-360-9171
http://weirdchicago.com
http://psychicken.com
---
Farlan Huff, Sasquatch Researcher
Born in Oklahoma. Worked in the Oilfields of NW Texas and OK until 1994. Worked at IL Oil Refinery until retirement. Always enjoyed nature and camping.
During summer of 2004 discovered for himself that Sasquatch is indeed a real living being and has enjoyed an independent research of Sasquatch ever since. The favorite research area being in Illinois. Farlan knows first hand that Sasquatch are located in WI, IL, OK, and TX while realizing witness accounts have been reported in every U.S. state except Hawaii, as well as accounts being reported in every province of Canada.
www.bigfootphoto.net
---
Ursula Bielski, historian, author, and parapsychology enthusiast
Ursula Bielski is a recognized authority on the Chicago, Illinois region's ghostlore, historian, author, and parapsychology enthusiast Ursula Bielski has been writing and speaking about Chicago's supernatural history, folklore, and the paranormal for more than 16 years. Her interests in ghosthunting and local legends began at a young age. She grew up in a haunted house on Chicago's North Side and received an early education in Chicago history from her father, a Chicago police officer. Since that time she has been involved in various investigations of haunted sites in and around Chicago, including such notorious locales as the Country House Restaurant in Clarendon Hills; Chicago's Red Lion Pub; southwest-suburban Bachelor's Grove Cemetery; and the Oshkosh, Wisconsin, Opera House.
Bielski and her books have been featured in several television documentaries, including productions by the A&E Network, The History Channel, The Learning Channel, The Travel Channel, and PBS. She appears regularly on Chicago television and radio, and lectures throughout the year at various libraries and to historical and professional societies. She has also authored numerous scholarly articles exploring the links between history and the paranormal, including pieces for the International Journal of Parapsychology. Bielski is a past editor of PA News, the quarterly newsletter of the Parapsychological Association; a past president and board member of the Pi Gamma Chapter of Phi Alpha Theta, the national history honor society; and a member of the Society of Midland Authors.
Bielski graduated from St. Benedict High School in Chicago; Benedictine University in Lisle, where she received a B.A. in history; and from Northeastern Illinois University, where she earned an M.A. in American cultural and intellectual history. At Benedictine University (footnote - during Ms. Bielski's tenure, the school was known as Illinois Benedictine College) her academic explorations include the spiritualist movement of the nineteenth century and its transformation into psychical research and parapsychology; and the relationship among belief, experience, science, and religion.
In 2004, she founded Chicago Hauntings, a company that gives bus tours and holds special events devoted to exploring Chicago's haunted history. Bielski lives in Chicago with her two daughters.
---
Ron Fabiani, Paranormal Investigator
Ron is known as 'Fabs', the powerhouse of the Chicago Paranormal Detectives team. He is often seen with a cigar dangling from his lips. He is fluent in Chicago lingo. Fab's believes that if something happens to defy logic, something else may be taking place.
Ron has been a Police Officer in the Chicago-land area since 1987 and has had training in many areas which include Field Training Officer, Evidence Technician, Gang Specialist, Homicide Investigations. Ron has also enjoyed many different assignments as well. They include, patrol, Investigations, Tactical Unit, Auto Theft and Homicide Task Forces, as well as numerous supervisory and command positions as well.
Ron has been intrigued by the Paranormal for many years. Since 1987, Ron has enjoyed tours of many notoriously haunted areas around Chicago-land. Since then, Ron had experienced some significant paranormal activity which he had captured on video. This prompted Ron to pursue an explanation. Ron discovered there were other Police Officers who wanted answers for apparent paranormal occurrences. Ron subsequently formed, the Chicago Paranormal Detectives. Ron's goal is to find "evidence" of paranormal activity and, to help people who request assistance from this group.
Aside from enjoying the work he does in these two fields, Ron enjoys family time with his children.
Ron Fabiani along with his friend Austin Weinstock have started a new band called "Open Key". They write and perform their own all original music. They both are still full time Chicagoland Cops, singer / song writers, and paranormal investigators with the Chicago Paranormal Detectives as seen on TV's "Paranormal Cops". They are both rather busy to say the least!
Eddie Mozas is a dear friend who has also contributed to writing lyrics for "OPEN KEY".
WHAT DOES "OPEN KEY" MEAN ? Many people have asked us the meaning of our name, OPEN KEY. By our definition, an open key is when a cop presses the transmit button on his/her police radio by accident. When this happens, all the other cops can suddenly hear whatever conversation is taking place. It is usually extremely entertaining and at the same time you will hear thoughts, feelings, and maybe even a little venting that you would not otherwise hear. Our music is our "Open Key"
www.chicagoparanormaldetectives.com
ronfabs10@yahoo.com
---
Michael Kleen, Author, speaker
Michael Kleen earned a M.A. in History from Eastern Illinois University in 2008 and a M.S. in Education from Western Illinois University in 2011. He is the author of numerous books, including Tales of Coles County, Illinois, Six Tales of Terror, and Paranormal Illinois. Michael has spoken about local history and folklore at conventions, libraries, cafes, schools, and colleges; and he has presented research papers at the 2007 and 2010 Conference on Illinois History in Springfield.
To discover more about Michael's writing and the unusual side of Illinois, please visit
www.trueillinoishaunts.com
Mike's personal site:
http://michaelkleen.com/
---
LESLIE KEAN is an independent investigative journalist with a background in freelance writing and radio broadcasting.
She has contributed articles to dozens of publications here and abroad including the Boston Globe, Philadelphia Inquirer, Atlanta-Journal Constitution, Providence Journal, International Herald Tribune, Globe and Mail, Sydney Morning Herald, Bangkok Post, The Nation, and The Journal
for Scientific Exploration. Her stories have been syndicated through Knight Ridder/Tribune, Scripps-Howard, New York Times wire service, Pacific News Service, and the National Publishers Association. While spending many years reporting on Burma, she co-authored Burma's Revolution of the Spirit: The Struggle for Democratic Freedom and Dignity (Aperture, 1994) and she has contributed essays for a number of anthologies published between 1998 and 2009. Her freelance journalism has been supported by grants from numerous foundations including the Open Society Institute of the Soros Foundation, The Fund for Investigative Journalism, and the Nation Institute.
Kean was also a producer and on-air host for a daily investigative news program on KPFA radio, a Pacifica station in California. She began covering the UFO subject in 2000 with a feature story in the Boston Globe, and followed with additional mainstream stories. In 2002, she co-founded the Coalition for Freedom of Information (CFi), an independent alliance advocating for greater government openness on information about UFOs, and for responsible coverage by the media based on a rational and credible approach. As director of the CFi, she was the plaintiff in a successful, five-year Freedom of Information Act federal lawsuit against NASA. In 2007, she co-organized a landmark Washington DC international press conference on official UFO investigations, which received media coverage around the world.
Kean was a producer for the 2009 independent documentary I Know What I Saw and is currently working with Break Thru Films, an award-winning film company, on a new feature documentary. She and her coalition have launched an ongoing initiative to affect US government policy so that scientists and aviation authorities can gain greater understanding of the still-unexplained UFO phenomenon.
http://ufosontherecord.com/
http://www.facebook.com/lesliekean
---
Dr. Nick Begich, Author, political activist
Dr. Nick Begich is the eldest son of the late United States Congressman from Alaska, Nick Begich Sr., and political activist Pegge Begich. He is well known in Alaska for his own political activities. He was twice elected President of both the Alaska Federation of Teachers and the Anchorage Council of Education. He has been pursuing independent research in the sciences and politics for most of his adult life. Begich received Doctor of Medicine (Medicina Alternitiva), honoris causa, for independent work in health and political science, from The Open International University for Complementary Medicines, Colombo, Sri Lanka, in November 1994.
He co-authored with Jeane Manning the book Angels Don't Play This HAARP; Advances in Tesla Technology. Begich has also authored Earth Rising - The Revolution: Toward a Thousand Years of Peace and and his latest book Earth Rising II- The Betrayal of Science, Society and the Soul both with the late James Roderick. His latest work is Controlling the Human Mind - The Technologies of Political Control or Tools for Peak Performance. Begich has published articles in science, politics and education and is a well known lecturer, having presented throughout the United States and in nineteen countries. He has been featured as a guest on thousands of radio broadcasts reporting on his research activities including new technologies, health and earth science related issues. He has also appeared on dozens of television documentaries and other programs throughout the world including BBC-TV, CBC-TV, TeleMundo, and others.
Begich has served as an expert witness and speaker before the European Parliament. He has spoken on various issues for groups representing citizen concerns, statesmen and elected officials, scientists and others. He is the publisher and co-owner of Earthpulse Press. He served as Tribal Administrator/Village Planner for the Chickaloon Village Council, a federally recognized American Indian Tribe of the Athabascan Indian Nation for five years and served four years as the Executive Director of The Lay Institute of Technology, Inc. a Texas non-profit corporation. Currently Begich consults for tribal organizations, private corporations and others in a number of research areas.
Dr. Begich is married to Shelah Begich-Slade and has five children and two grandchildren. He resides just north of Anchorage in the community of Eagle River, Alaska, USA.
http://www.earthpulse.com/
---
Rosemary Ellen Guiley: is one of the leading experts on the paranormal
Rosemary Ellen Guiley is one of the leading experts on the paranormal with more than 45 published books on a wide range of paranormal, spiritual and mystical topics, including nine single-volume encyclopedias. Her work is translated into 14 languages. She has worked full-time in the paranormal since the 1980s, conducting original field investigations and research for her many books, articles and public presentations. Her work focuses on interdimensional entity contact experiences and documentation of interdimensional portals.
In addition to her own books, she is the consulting editor for Mysteries, Legends and Unexplained Phenomena, a line of nonfiction books for the young adult market (Chelsea House/Facts On File), and is a consulting editor of FATE Magazine. Formerly, she wrote a column for TAPS Paramagazine and was a blogger for the Arts & Entertainment website Paranormal Insider. She makes numerous media appearances, and has been featured on the History, A&E, SyFy, Discovery, Animal Planet and Travel channels. She is a frequent guest with George Noory on Coast to Coast AM, and makes regular appearances on a wide variety of paranormal and metaphysical radio shows. She is featured in documentaries and docu-dramas, and is a popular college and university campus speaker.
With noted ufologist Philip J. Imbrogno, Rosemary has co-authored The Vengeful Djinn, a bestseller it its category since its debut in February 2011. Rosemary and Phil have a second book coming out in December 2011, Dimensional Portals. She has co-authored a book on high-tech spirit communications with George Noory, Talking to the Dead, which will be out in October 2011.
Rosemary also is a board director of the Paranormal Source, Inc., a nonprofit educational organization, and is a past board director of International Association for the Study of Dreams, and a past board trustee of the Academy of Religion and Psychical Research (now the Academy of Spirituality and Paranormal Studies). She consults for numerous paranormal organizations.
Her websites are
www.visionaryliving.com
and
www.djinnuniverse.com
.
Rosemary Ellen Guiley websites
www.visionaryliving.com
www.djinnuniverse.com
---
Alfred Lehmberg: All around great guy!
Successful Husband, Grandfather, Father, Writer, Illustrator, Summa Cum Laude University Graduate, Retired Master Military Aviator, and Failed Public School Teacher, but a person attentive to UFOs and their ancillaries because inattention seems unintelligent, unprogressive, and unbrave. Presently writing a monthly commentary for UFO Magazine... decidedly, an acquired taste, but it's strange down the rabbit hole... ...and more to taste than buds...
alienview@roadrunner.com
>
www.AlienView.net
>> AVG Blog --
http://alienviewgroup.blogspot.com/
>>> U F O M a g a z i n e --
www.ufomag.com
---
BRYCE ZABEL: CNN correspondent-turned-screenwriter
CNN correspondent-turned-screenwriter Bryce Zabel has created five primetime television series, notably NBC's Emmy-winning UFO series Dark Skies, just released on DVD in January 2011. This year his just published non-fiction book, A.D. After Disclosure: The People's Guide to Life After Contact, is being developed as a weekly television series by his production company Stellar Productions and Electric Farm Entertainment.
In 2008, Zabel received the Writers Guild of America (WGA) award for writing his third four-hour Hallmark mini-series, Pandemic. He has written multiple studio feature scripts, receiving credit on produced films and miniseries that include Atlantis: The Lost Empire, Mortal Kombat: Annihilation, Blackbeard, and The Poseidon Adventure. He is currently under contract to write Majic Men, about the Roswell investigation. He wrote SyFy's first original film, Official Denial, and the first film in the Unsolved Mysteries MOW franchise, Victim of Love.
Zabel served as the elected chairman/CEO of the Academy of Television Arts & Sciences, and was responsible for the post 9/11 Emmy awards as well as the negotiations which led to an unprecedented 250 percent license fee increase for the telecast. He has been an award-winning on-air PBS investigative reporter, an adjunct professor at the USC School of Cinematic Arts and is a member of the Directors Guild of America (DGA), AFTRA and the WGA.
In addition to Dark Skies, Bryce has received the WGA "created by" or "developed by" credit on Kay O'Brien (CBS), M.A.N.T.I.S. (FOX), The Crow: Stairway to Heaven (SYN) and E.N.G. (CTV). His other series work includes Steven Spielberg's Taken, L.A. Law, Life Goes On and Lois and Clark: The New Adventures of Superman.
Besides two WGA nominations and one win, his work has been nominated by the Environmental Media Association, Mystery Writers of America and the LA Emmy awards.
He edits two websites, Movie Smackdown! and Life After Contact.
http://www.afterdisclosure.com/
http://www.moviesmackdown.com/
---
Suzanne Taylor, Producer/Director
Suzanne Taylor, Producer/Director of What On Earth? Inside the Crop Circle Mystery (
http://CropCircleMovie.com
), has been involved with films since she graduated Phi Beta Kappa and summa cum laude from NYU. Having been an actress, she crossed over to the other side of the camera as the Executive Producer of the feature documentary, CROP CIRCLES: Quest for Truth. The new film, What On Earth? won the award for Best Feature Documentary at the UFO Congress Film Festival, where the other film got the Audience Award. What On Earth? got an award for Excellence in Paranormal Filmmaking from the Paranormal Symposium and Film Festival, and Suzanne is a crop circle authority in the History Channel series, Ancient Aliens.
As the founder of Mighty Companions, a non-profit dedicated to consciousness expansion, her Los Angeles home is a gathering place for forward-thinking activists. A fine arts post-impressionist painter, Suzanne had a one woman show. She is an accomplished chef, and author of The Anybody Can Make It, Everybody Will Love It Cookbook. She writes a blog, Making Sense of These Times (
http://TheConversation.org
), where posts about progressive ideas include considerations of how consciousness might evolve and how instrumental the crop circle phenomenon could be in that regard.
I'm not a filmmaker who found a subject, but am a subject who became a filmmaker -- to tell the world about the crop circle phenomenon. My fundamental interest is in the consciousness-expanding awakening going on, and the circles could create the biggest shift ever in how humanity perceives itself. If we knew we were being visited we would be one humanity in relation to 'the other,' and, as someone in the film says, "That could be what saves this civilization." -Suzanne Taylor
http://facebook.com/whatonearth
.
---
J.J. Hurtak, Ph.D., Ph.D., and Desiree Hurtak, Ph.D./ social scientists, futurists
J.J. Hurtak, Ph.D., Ph.D., and Desiree Hurtak, Ph.D. are social scientists, futurists and founders of The Academy For Future Science, an international organization. Dr J.J. Hurtak is the author of The Book of Knowledge: The Keys of Enoch® as well as numerous other books, including the book co-authored with physicist Russell Targ entitled End of Suffering: Fearless Living in Troubled Times, on the importance of remote viewing and higher logic. His graduate degrees are from the University of California (Ph.D) and the University of Minnesota (Ph.D). Dr. Desiree Hurtak is co-author with J.J. Hurtak of several books including their latest book is entitled Overself Awakening. Drs. Hurtak are co-producers of several computer animated films on scientific and spiritual themes that have won fourteen national and international awards. The Hurtaks have worked extensively in developing countries, including the archeological sites of Giza and the Yucatan. Their work is to synthesize a social and philosophical understanding of the contact myths with an eye towards how they apply to the larger cosmic dimensions.
© 2011 Academy For Future Science
www.futurescience.org
www.keysofenoch.org